0






The Appearance Of Boredom
Posted by Autumnpuma , 06 November 2009 · 34 views
Well, because of the way copyright laws are, I won't be posting much serious art here (when I get my site up and running again, I'll put a link to it here). I can, however, post little doodles and stuff.
Doodles and stuff are the bread and butter of any artist. From those little brain-dribblings you get the more impressive, finished pieces. Brain-dribbling seems to happen for me most often at work and today my mind was pondering my first love...superheroes. Here are a few sketches I jotted down on post-it notes. Enjoy. Or run away.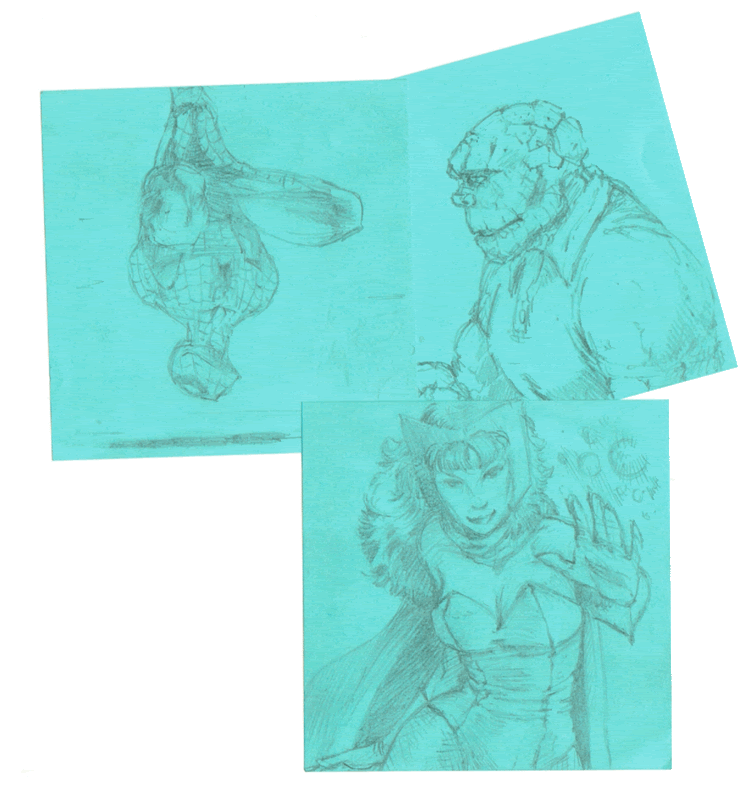 Here's one that I went a step further with and threw some colors on in Photoshop:
And a picture of JV that I started in Painter and gave up. I was emulating analog paint and that seemed ridiculous when working digital. Why fake a brushstroke that I could just do with normal paint? Here it is anyway.
The evolution of the failed JV piece was interesting. Normally, I'd take the photo reference and either grid it out and re-draw it larger on the board or I'd use an Art-O-Graph to project it. From there I'd do a pencil value study, spray it with Fixatif, and begin the actual painting, building up transparent glazes and finally slabbing on the heavy paint. By contrast, working digitally had me skipping a few steps.
My photo reference was already in the computer so all I had to do was import it into Painter and size/position it as I wanted. Right here most non-artists are saying "That's cheating! You should pull it all from your head!" Well, no. If you pull everything from your head all the time, you stagnate. Also, if you try to just duplicate religiously a photo, you'll end up with a horrid-looking piece of artwork. The camera distorts and you need to know something about shape and value to correct the camera. Then there's color balance. Anyway, the process isn't as easy as tracing a photo (oh how I wish!).
OK, after putting the reference onto it's own layer, I tried to do my pencil value study and no software I have ever used has been able to really emulate graphite or charcoal. So I had to skip this step and figure the values as I went along. The next step (transparent glazes) had to be modified a bit. I can lay out blocks of color in a crude sort of way, but I was really missing the subtlety of paint. I spent very little time on this step. Finally, I just plunged into actually painting the piece.
Digital paint does not want to blend nicely. I was forced to go for a very stark, acrylic-like look which I didn't like. I was also dissatisfied with the color. In a normal painting, I have to mix colors to match what I have in my head and in the photo reference. With digital, you just sample the reference and get the exact color. This was too sanitized for my tastes. No mistakes means less humanity, in my never-to-be-humble-opinion. As I progressed, I become convinced that if I wanted a painting to look like an oil painting, I would need to do it in oil. If I wanted to work digitally, I would need to strive for a style that uses the unique qualities of digital media. I'm painting with light, not pigment. When I figure out how to do this, I'll start back on digital painting, but for now, I'm sticking with the good old canvas, brush, sweat and oil.
There's a painting of a poppy field on the board right now. I'll post that when I'm done.